GODJ Plus is a portable DJ system packed with an extensive range of functions. Since it is A4-sized, it fits into your bag. With GODJ Plus, you can handle any situation from small parties to big nightclub events.
Generally, to DJ, you have to prepare various devices such as two turntables or a CD player, a mixer device, an effect unit, a sampler, and so on. It was a huge obstacle for beginners to get all these devices and connect them correctly by themselves just to get started. However, GODJ Plus will take care of everything.
▼ GODJ Plus Demo
GODJ Plus, the next-generation of GODJ, has three main features. The basic functions of GODJ, which are loved by DJs all over the world, are still available. But now, the new version also has a built-in high-quality speaker with megavolume and the Wi-Fi feature. Now, it evolved into a real, stand-alone device that you can DJ with. You don't need to take your laptop with you anymore. Just turn on the power, and anyone can start DJing.
1.High-quality Built-in Speaker with Megavolume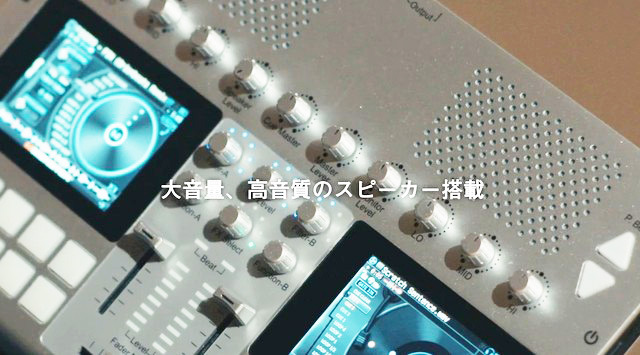 To play the heavy bass sound, it is designed to have a space for the big speaker. The line-out jack and the speaker volume are separated, so you can use the speaker as a monitor as well.
Also, to achieverealize the megavolume and long-time playing, a the full-digital speaker system has been adopted., This is a world-'s first for a portable device. Even though it seems thin, the all-in-one speaker module with the multi-coil drive unit and the passive radiator make it possible to get an unimaginable heavy bass sound.
2.A4-Sized, Fit for a Bag
All you needs are packed inside the A4-sized device, so you can play it anytime and anywhere. Using only the built-in battery, you can use it continuously for more than 12 hours.. You can use the device not only in nightclubs, but also at house parties and outdoors.
3. Connecting to a Wi-Fi network with the SD Card
We are planning to add a Wi-Fi music download feature. You will be able to check out the latest club music without using your PC or smart phone, download songs recommended by professional DJs and share your own play lists. You will be able to listen to your favorite DJ mixing in your room.
Mixing two songs smoothly, scratching, and making effects. These DJ functions are all-in-one device. A4-sized body is easy to carry and use. You can enjoy playing it in any situation.
Though you can feel free to play it, what's in it is very genuine. This device is suitable for everyone from beginners to professionals. It has auto functions which can support the first DJ plays and also has samplers which are applicable to difficult plays, depending on your idea. The potential of the device is as big as even that of a huge DJ equipment.
We are planning to increase the number of knobs from 6 to 16. The number of pads and buttons will also be increased, so that more and more multi kinds of play will be enabled. It supports the complicated techniques played by professionals.
World's First DJ System with Exclusive Dancer GODJ Plus is connected to the new technique " MotionScore" for the first time in the world. While it's connected to the PC, your CG dancer will be on the screen. Don't worry if you don't know how to VJ. The CG dancer starts dancing and warms up the party, following the BPM and the mode you selected. What's more, when you push on the pads rhythmically, the dancer will kick and clap, which will guide your fans to dance. You might feel as if your avatar is dancing on the floor.
When the RCA connector on the back of GODJ Plus is joined with an amplifier or a mixer, you can use the huge speakers with ease. This kind of usage is the same as the former version, GODJ, which many professionals have used.
Now, you never have to worry like, "There is nothing good to connect to in the club." or "The annoying update popup came out when playing with the PC DJ app.". You can bring your stable environment with one hand, and can play before the audience just as practice. GODJ Plus offers you such an ideal DJ life.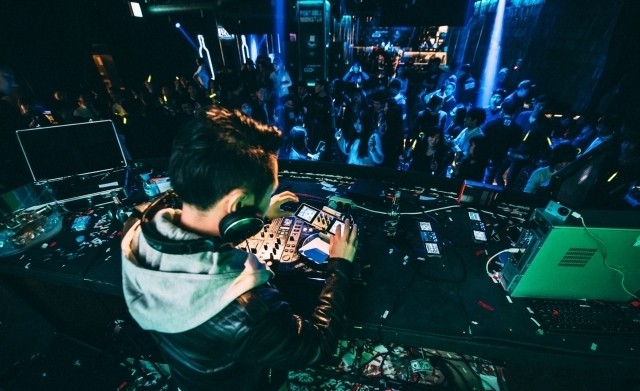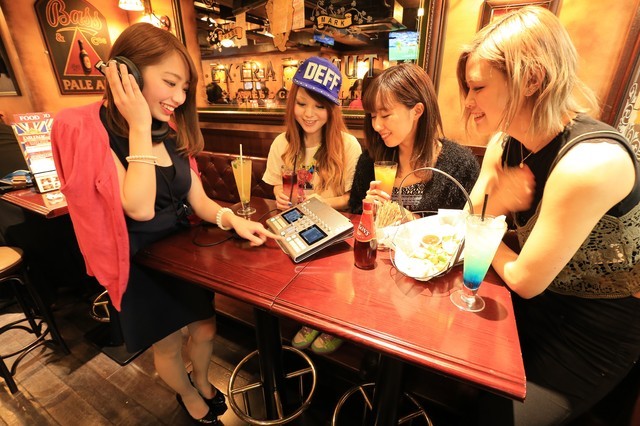 Even if you already have your favorite machine, you can have one as a spare, or as a reserved machine while you are away from home.
Without using a big machine, the party can be warmed up with the music played by this device. Its size is suitable for outdoor tables. It must be fun to have your friends DJ for the first time in their lives.
It can work very well as an audio system for small shops. By using the function "AutoDJ", the music can be played without any operation. It is just as if you hired a DJ. The music is used as the BGM in bars and cafes. It might grab attention as an stylish interior.
Your favorite music starts immediately after you press the switch. It can be used as a home audio, just like a CD radio-cassette, or a component stereo set. If you are not satisfied with the music played on your smartphone , we will strongly recommend this AutoDJ function. You will not get tired of the album you usually listen to because it will be played in a different way.
You can make an outdoor party more enjoyable with GODJ Plus. Without speakers, you can have fun with the huge sound of music.
The former version of this project, GODJ, was created to be "the world's smallest DJ system", and started to be on sale in 2012. 286 gram weight compact body with high functionality has attracted many fans, including professionals.
However, to make it as small as possible, some features, such as a built-in speaker, were excluded. The GODJ Plus is the one designed to cover this weakness. With a little bigger body, we were able to have full-spec functions inside. This is the definitive edition of the portable DJ system.
All manufacturing processes of GODJ series are done in-house. We have a long experience of creating a product, so that the movable parts are also selected with the best reliability.
Universal OS such as Android and Linux are not used in the hardware, but our own system controls the tasks for the best functionality. Because of that, every resource can be concentrated to play the music. As it is a dedicate machine, the fast and stable experience is realized without freeze nor clash.
GODJ Plus is a MADE IN JAPAN product, which is manufactured in Yaguchi Electronics located in Ishinomaki, Miyagi. The company has manufactured many audio systems such as a walk-man and a wireless headphone from Sony.
(The specs are in trial production. They may differ from those of the final product.)
- Body size : 275mm by 200mm by 20mm (trial version)
- Weight : 820g (trial version)
- Audio connectors : RCA output, headphone output, Stereo input, microphone input
- Interfaces : Micro USB (for charging/PC connect), SD card slot
- Capacity : 16GB (14GB for music capacity, 1GB for recording, 1GB for the system)
- Continuously-played time : 12 hours with LCD light on, 24 hours without
- Accessories : USB cable
- Planned Price : 53,784 yen (tax included)
We offer two products.
<1> The first one is the final product of GODJ Plus. It is planned to be delivered around in October, 2016, since the mass production starts after Makuake campaign. You can choose the body color which is silver or black.
<2> The second option is the set of final product of GODJ Plus and the "GODJ-C", a low-priced edition of GODJ. GODJ-C does not correspond with the musical instruments such as pianos and guitars, and also high resolution. Even though basic functions are the same as those of GODJ and GODJ Plus. If you have no GODJ series, it is strongly recommended to have an option. GODJ-C will be started to be delivered within two weeks after Makuake campaign ends, so that you can practice before the GODJ Plus finally comes to you.
As the limited edition of Makuake, the set with the gold model of GODJ is prepared. The memory capacity is 32GB. It is the premium model favored by DJ KOO from TRF.
May 2016 : GODJ-C starts to be delivered, 2nd trial version made
Jun 2016 : GODJ Plus final design decided, speaker adjustment
Jul 2016 : Molding production start, parts supply
Sep 2016 : Moldind final adjustment, software test
Dec 2016 : GODJ Plus starts to be delivered
JDSound is a startup company located in Sendai, Miyagi. They have been working in the field of semiconductor design and digital audio for over 15 years. The team has produced various products such as game machine, karaoke machine, guitar effector, high resolution player, and so on. Neat and careful product manufacture is their characteristic.
JDSound Representative Director, Koichiro Miyazaki
Message
We have launched this project with the aim of making a world-class MADE IN JAPAN product and creating a new industry in the disaster area, Ishinomaki. We sincerely look forward to your support.

Q1. I have never played DJ. Can I use it?
A1. Of course you can. Our product has various support functions to support beginners to be alble to enjoy mixing without difficulty.
Q2. What is the difference between the former version, GODJ and this new version "GODJ Plus"?
A2. As for hardware, the main differences are the addition of a built-in speaker, operation parts such as knobs and pads, and output connector. For this reason, the body is A4 sized, which is bigger than the former version. As for software, the biggest feature is the addition of wi-fi network. Other additions and changes are under review.
Q3. Can I connect it with the huge speakers in club?
A3. Yes, you can. Just connect the RCA output on the back of the body to the amplifier, and the music will come out from the huge speakers.
Q4. Are the manual and supports only provided in Japanese?
A4.I'm afraid to say that we currently provide all the support only in Japanese. Our repair base is located in Japan (Sendai, Miyagi).
Select a reward
Select a reward
This purchase agreement will be confirmed when you complete your payment.